Get Garden Clean Up and Maintenance in Dorking RH4 Right Away!
Arranging for a friendly and efficient team to come around and take care of your garden clean up in Dorking RH4 doesn't have to be a chore. We make it easy, with a single fixed hotline number that stays open and ready to take your call at all hours of the day and night, and convenient services that can be booked for whenever you need them. You'll enjoy some of the lowest rates available in the local area – we've got the equipment to handle even the most overgrown jungle, and only ever charge for the amount of garden waste that you need us to remove, so you'll never fork over more cash than you need to.
Get Garden Clean Up in Dorking Whenever You Need It!
Got a stump or a shrub you're having trouble getting rid of? A whole heap of leaves and deadfall? Need it all gone as soon as possible? Not a problem! We offer our Dorking garden maintenance in a wide array of convenient booking slots, so you can always fit us in. Plus, we give you:
The expert help you need with any garden clearance or clean up – talk to us today about what you've got planned!
24-hour a day care and support – call to book or request a free quote at any time
Convenient appointment and free rescheduling – we offer late evening and weekend options, and don't charge to reschedule if you give us 48 hours' notice
Wonderful rates – and special deals on multiple service bookings – you can also book garden design or tree surgery
A top team – who have full insurance cover and training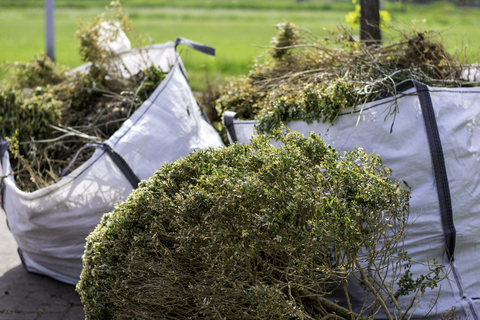 Gardening Services in Dorking That Do it All for You!
It doesn't matter what you've got in mind in your plan to clear up and clear out your outside space – our gardening services in Dorking are fully equipped to handle any situation. We've helped our previous clients dig out unwanted tree stumps, trees and shrubbery, to remove weeds and other plants from borders and grassy areas, removing any and all garden waste, including leaves and building materials, and generally turning even the most unkempt jungle! We've got all of the state-of-the-art equipment and unusual tools needed for such tasks – perfect for when you're moving into or out of a property, or just for when you've had too much to deal with to let you keep on top of all of those gardening chores for a while.
Get Your Garden Tidy Up by Trained Experts
It might just be clearing your garden of junk, but there's an art and a simple science to garden clearance. You don't want any extra mess, and we don't want to take up any more of your time than we have to! To this end, we employ only the best in the business when we're recruiting in Dorking, and we make sure that each has full insurance cover whenever they're on your property. Each member of the team has also been carefully interviewed – just take a look at our reviews page now to learn more from our other customers on the subject of the handy services they received from us!
Book a Convenient Garden Clean Up in Dorking Today!
Want a free quote on getting a garden clean up in Dorking? Or do you just want to make an appointment today? Give us a call on telnumber right now and we'll be able to arrange either or both for you! We offer 24-hour a day phone coverage, so feel free to get in touch with us whenever you need to. There's no obligation if you want to ask for more information or get a price on what you need to get done – just pick up the phone and call now, or use our chat facility or booking form online at your convenience.